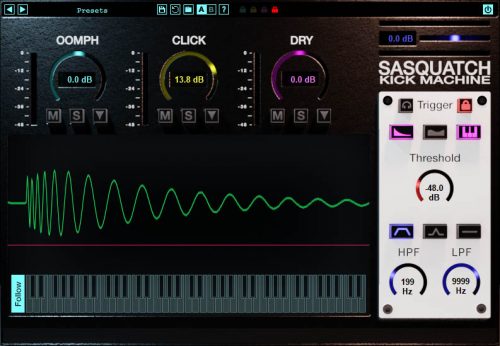 How to Make Your Kick Drum Go Boom
by DJ Pangburn, iZotope Contributor May 28, 2019

Learning how to give a kick drum a greater depth and boom takes time and effort. It's just not something that comes right away, unless one happens to be a naturally born electronic music or hip hop producer.
I like learning how to get different sounds with step-by-step exposition of what is going on and how things affect the sound.
I recently purchased
Sasquatch Kick Machine 2 | Boz Digital Labs
Sasquatch 2 is a CPU-friendly kick drum enhancement plug-in that enables you to custom-tailor the sound of any kick drum, acoustic or electronic, with exhaustive creative possibilities, ranging from subtle to extreme and beyond.
which gets to booming kick drums (and then some) in short order. Great fun working on interesting sounds.
Is Innovation Dying In DAW Development?
Over the years there have been a growing number of Pro Tools users who have felt at some point that Pro Tools has been playing a long game of catch up when it comes to introducing "new" features. When I refer to "new" I mean features that are new to Pro Tools, not innovative new features that haven't been seen before in other DAWs.
I read a number of blogs as a daily exercise. ProTools Expert is one of them, even though I abandoned ProTools at version 8 (Got Logic Pro X) and never looked back.
I use Studio One (now version 4), Harrison MixBus, and Logic Pro X (with the occasional GarageBand for good measure). I find that I learn *A LOT* about DAWs and recording and mixing when I try to find the similarity between them along with how to do "the same thing".
I think there's plenty of innovation left — Cubase, FL Studio, Sonar, LIVE!
It's all good.